Facility information
施設情報
Anshin Oyado's facilities on each floor and our selling points are as follows.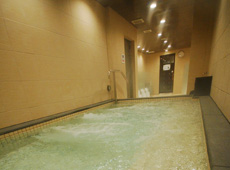 Basement: "Akiba no Yu" (bath area)
BF アキバの湯
The basement is the communal bath area "Akiba no Yu". Not only the shower booths, but we have the latest type of mist sauna which is kind and safe to your body. Refresh your physical fatigue with your favorite warm bath. We also installed lockers with keys and sterilizing lamps for slippers to thoroughly manage our facility for safety and cleanliness.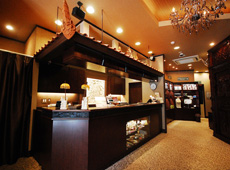 1st floor: Front Desk, Lockers, and Elevator
1F フロント・ロッカー・エレベーター
The 1st floor is the common reception for "Anshin Oyado", "Akiba no Yu" (basement), and "Iyashi no Café" (2nd floor) , Guests staying at "Anshin Oyado (capsule hotel)"can use both "Akiba no Yu" and "Iyashi no Café" free of charge, which is very reasonable. Once you step in the building, you won't find the cheapness of ordinary capsule hotels at all, but a very relaxed atmosphere with comfortableness (sense of healing) and luxry welcoming you.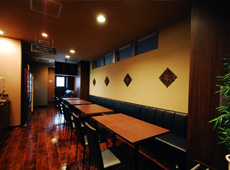 2nd floor: "Iyashi no Café" (internet café)
2F 癒しカフェ
This floor is our relaxation area "Iyashi no Café". All the semi-private spaces are equipped with personal computers and internet. It is useful for businesspeople since the space is fully euquipped with Wi-Fi. You can also enjoy watching baseball games and news programs on 50 inches monitor at the main space. Also, beverages are free of charge at the drinking bar in this cafe. You can buy beer, soft drinks, light snacks, instant noodles, bread, and sweets from the vending machines.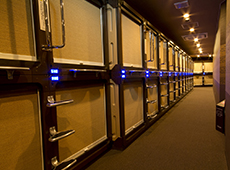 3rd floor to 7th floor: Capsule Rooms "Anshin Oyado"
3F-7F カプセルルーム 安心お宿
3rd to 7th floors are capsule rooms (sleeping modules). We are the first "capsule hotel" in Japan that furnished specially ordered beddings of Simon's. Experience the finest sleep of Simon's at "Anshin Oyado" which many exclusive hotels use. All capsule rooms are equipped with electric sockets and battery multicharger.
5th and 7th floors: For VIPs
5F、7F VIPフロア
5th and 7th floors are for VIPs only. The basic structure is the same as the ordinary capsule rooms on other floors, but we use high-grade down-filled pillow and quilt for beddings which we recommend especially for guests who seek for comfort in his stay. Mattresses are 30mm thicker than the standard rooms! Enjoy the high quality of sleep.